Nutraceuticals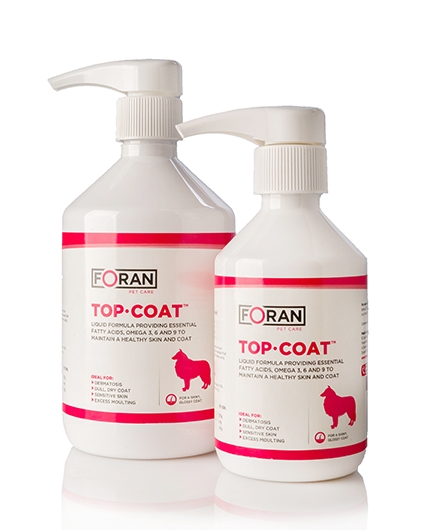 Topcoat
Ideal for:
Dermatosis
Dull, Dry Coat
Sensitive Skin
Excess Moulting
Complementary dietetic feedingstuff for dogs providing essential fatty acids, omega 3, 6 and 9 to maintain a healthy skin and coat. Top Coat supports skin function in case of dermatosis and excessive loss of hair. It is ideal for animals with dry and dull coats or sensitive skin. Available in a 250ml and 500ml container.
Composition
Flaxseed Oil, Calcium Hydroxide.
Analytical Constituents
Crude Protein 0.5%, Crude Fats and Oils 47.2%, Crude Fibre 0%, Moisture 46.8%.
| | |
| --- | --- |
| Essential Fatty Acid Content | Per 100ml |
| Omega 3 | 27.5g |
| Omega 6 | 6.9g |
| Omega 9 | 10.2g |
Feeding Guide
Add to feed once a day.
| | |
| --- | --- |
| Bodyweight | Recommended Amount |
| Up to 5kg | 4.5ml (3 pumps) |
| 5-10kg | 9ml (6 pumps) |
| 11-20kg | 15ml (10 pumps) |
| Over 20kg | 24ml (16 pumps) |
For best results give recommended amount daily for up to 2 months. It is recommended that a veterinarians opinion be sought before using this product.
Precautions
For animal use only. Keep out of reach of children. Store in a cool place below 25oC away from direct sunlight. Shake well before use.
Testimonial
"Topcoat is a fantastic product that I recommend to clients on a regular basis. I find it extremely useful in young puppies with dry skin or mild pruritis when I am reluctant to use prescription medication on account of their age. I have seen dramatic improvements after two weeks of treatment with Topcoat. I also use it as part of treatment plan in most cases of environmental or food related allergic dermatitis." - Brona Culhane MVB, Clondalkin Animal Hospital.