Nutraceuticals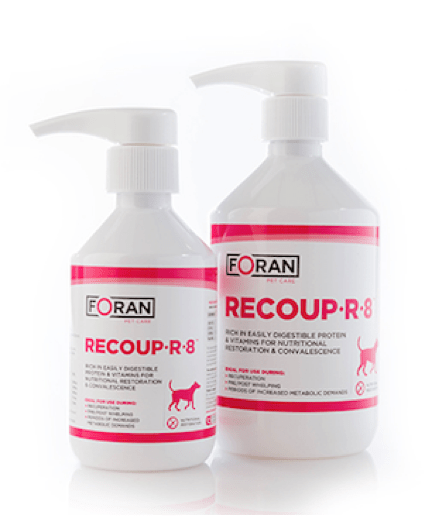 Recoup-R-8
Ideal for use during:
Recuperation
Pre/Post Whelping
Periods of Increased Metabolic Demands
Complimentary dietetic liquid feedingstuff for dogs rich in easily digestible, hydrolysed protein and vitamins for nutritional restoration and convalescence. Ideal for dogs during recuperation, post whelping or during periods of increased metabolic demands. Available in 250ml and 500ml.
Composition
Hydrolysed Fish Protein, Sorbitol, Propylene Glycol, Xanthan Gum.
Analytical Constituents
Crude Protein 33.25%, Crude Oil 2.8%, Crude Fibre 0.38%, Ash 1.09%, Energy 11.86 MJ/kg.
Feeding Guide
Add to feed once a day.
| | |
| --- | --- |
| Bodyweight | Recommended Amount |
| Up to 5kg | 4.5ml (3 pumps) |
| 5-10kg | 9ml (6 pumps) |
| 10-20kg | 18ml (12 pumps) |
| Over 20kg | 30ml (20 pumps) |
For best results give daily for 2-4 weeks or until restoration is achieved. The recommended amount of Recoup-R-8 can increased according to individual needs as recommended by your vet or nutritionist.
Additives
| | |
| --- | --- |
| Vitamins | Per Litre |
| Vitamin E | 5424mg |
| Vitamin B1 | 1022mg |
| Vitamin B2 | 1082mg |
| Vitamin B6 | 511mg |
| Vitamin B12 | 2.2mg |
Zootechnical Additives
Precautions
For animal use only. Store in a cool place below 25oC away from direct sunshine. Keep out of reach of children. Shake well before use. Do not freeze. Refrigerate once opened.
Testimonial
"We have found this product extremely beneficial in the treatment of older and convalescing dogs. It has also proven very successful in the treatment plan for dogs suffering from GIT inflammations. It is very palatable and easily digested and I would recommend this product to form part of a comprehensive treatment plan for these conditions." - Des Groome MVB, Kildare Vet, Green Road, Kildare.