Nutraceuticals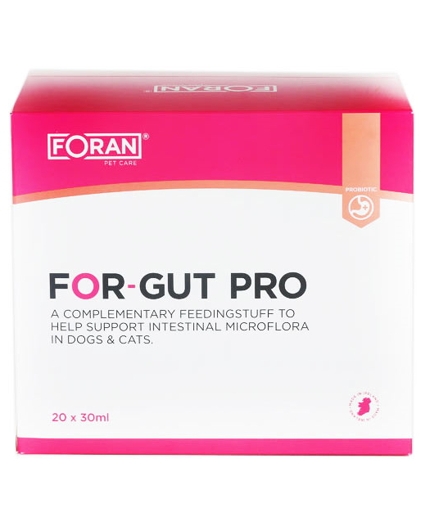 For-Gut Pro
Ideal for:
Supporting Intestinal Microflora
Supporting Immune System
FOR-GUT PRO is expertly designed by vets, for vets to help support intestinal microflora in dogs and cats. It combines natural probiotics, and prebiotics with the natural binding agents Pectin, Potato Fibre and Bentonite. With Brewer's Yeast fraction highly enriching it with both Mannan Oligosaccharides and -D-Glucans, FOR-GUT PRO actively and effectively supports their immune systems.
Composition
Rapeseed Oil, Inulin, Bentonite, Dextrose Monohydrate, Brewer's Yeast (Saccharomyces Cerevisiae), Pectin, Potato Fibre, Sodium Chloride, and Potassium Chloride.
Analytical Constituents
Crude Protein 0.7%, Crude Oil 40.7%, Crude Fibre 14.4%, Crude Ash 16.3% Moisture 4.1%.
Feeding Guide
| | |
| --- | --- |
| Cats | 2ml twice daily |
| Puppies & Small Dogs | 2ml twice daily |
| Adult Dogs | 4-8ml twice daily or as directed by your veterinarian |
|   |   |
Precautions
Formulated specifically for use in dogs and cats. Replace tip closure immediately after use. Store in cool dry place. Keep out of reach of children. For animal use only.
Use FOR-GUT PRO to help maintain a healthy gut flora during periods of stress, antibiotic treatment and intestinal challenge. Use under veterinary supervision. This product should not be used with oral macrolides.
Testimonial
No testimonial has been added for this product yet.